Friends, Romans, Fl*sters, I seemed to have bitten by the spamming bug! And while I'm in the mood, I thought I'd bring us the final part of my long haired lovelies trilogy (ok it should've been a one shot, but you know how these things get out of hand). So where do I start.....hhhhhhmmmmmm I know! Ladies how about I introduce you to a certain specialist
Ronon Dex! I swear he's got long hair, but for some strange reason I a little distracted *G*...hang on I'll try again.
see I told you long hair! Now it seems this gentleman has several cousins all with lucious locks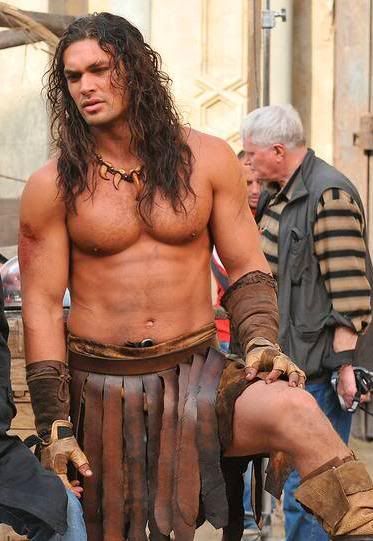 I...errr...errrmmm hang on I had a witty comment...no all I can think is thigh!!!!!!!! And ooohh look at at that chest!
*Smack* that's it, I'm back! so this is Conan the Barbarian. Hands up all of us who want to be pillaged by this man? Right form an orderly queue. It does seem this particular bloodline does have it's far share of warriors.....
Khal Drogo, taken from us way too soon, and that's one hell of a pony tail. Before I leave this fine speciman of a man let's take a look at the most current incarnation
Well hello Jason! You are a credit to the family tree.
Now as I stagger slowly away, who else is there? Let me see it seems we have a new muse in town!
Leonardo Da Vinci, now there's a man who could paint me. I'd even let him apply two coats!
If the artistic type is not your thing how about this bevy of beauties?
All for one and one for all! The Muskeeters, a fine body of men, who really know how to handle their weapons *G*
Finally I have found a newbie! A man I have yet to see up close and personal, but based on this all I'm gonna say is Och Aye the noo!
From various sources, I've been very reliably informed that this is Jamie from the show Outlander! Ok who do I have to harass to get this show over here in the UK, because damn that man can wear a kilt.
So ladies it is with a certain sadness I take my leave of you, and I promise no more long haired lovelies......
Ok I lied! I just had to put this here, it's the only way I'll ever see Jensen with long hair *G*